As I was writing my half marathon recap on Sunday, the following commercial came on and it hit pretty close the the heart. Of course the commercial is exaggerating the scene a bit but I truly believe this is a common reaction in the running community. See someone struggling, someone grinding to the finish, someone knocking out some miles in 100* heat, all you can think is "Awesome job!" So if you haven't seen it, take a look...if you have seen it, enjoy an encore.
About my stride, I have worked on it a lot since earlier this year. I was having constant IT Band pain and Ive found that foot strike and strength training were the cure to that problem. Just for fun I had Mrs Schlub record me running on the treadmill so I can see what I'm working with. Yikes I still have a lot of work to do.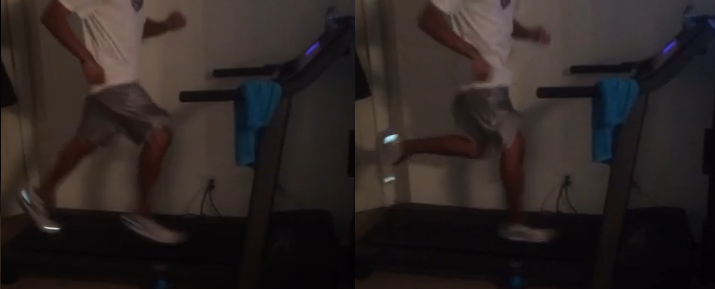 On the left side I can see that I am not raising my knees high enough before I plant. This is causing me to swing my leg out in front a bit. So along with my normal runs, I'm going to be adding in some form drills to get those knees up higher.
Now the picture on the right shows my foot plant and I'm pretty happy with where I've been able to get to. Not completely in my center of gravity but bent leg and not toe striking like I was when the ITB issues were occurring. As I work on driving my knees, it should also help with my foot strike.
Its so much different feeling your stride or thinking what it looks like and actually seeing it from a different perspective. Best thing is when I saw Mrs Schlub's video, I actually looked like a runner. I had the treadmill set at 6:40 pace and I was actually making it look easy, of course I was dying at the time lol. Anyways, there is my scientific analysis of my stride for today, but I think this may become a common occurrence as I thought it was extremely helpful.
Have you ever seen a video recording of yourself running? Do you think its helpful to watch your stride?