I was battling a stomach bug most of the week. Finally started to feel normal on Friday but just didnt know if my legs would be fresh enough for the run. Friday night I stayed up too late watching the NBA Playoffs but still got a pretty good amount of sleep.
I had my race gear layed out the night before because we were waking up early to head to the race.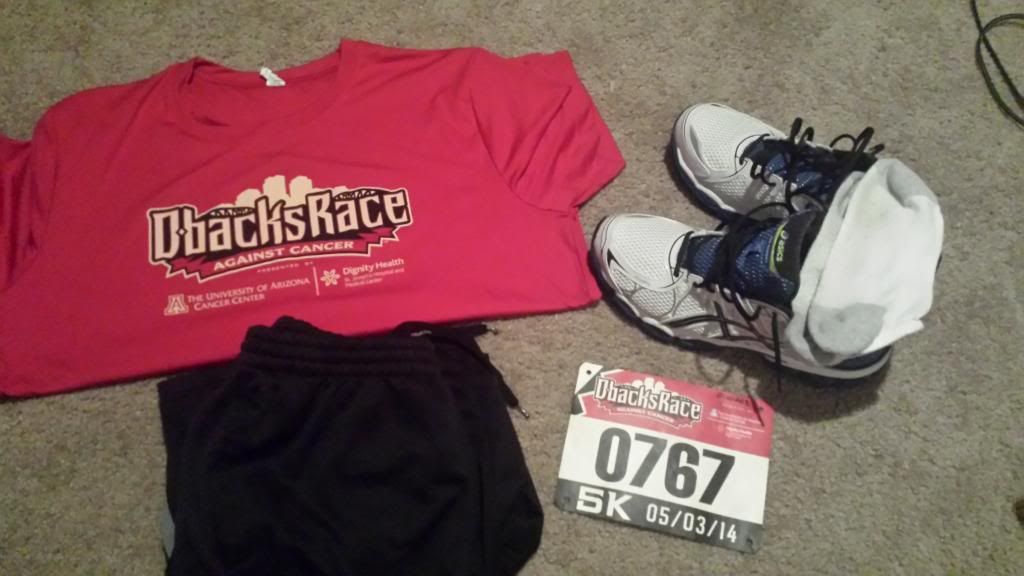 I woke up at 5am to jump in the shower and get ready for the race. Woke up the kids about 530am to get them ready as they would be running/walking the family fun race. We headed out about 6am to meet up with our running friends. Parking was actually very convenient, not sure if we beat the rush but we parked in a parking garage right next to the starting line and walked 100 feet to the starting area. Immediately met up with our running friends and of course had to take our pre race pictures.
Another plus of the race was the availability of the restrooms. They had quite a few port o johns set up and I was actually able to hit them twice before the race started without any waiting what so ever. Mrs. Schlub lined up with our running friends, I gave her a kiss and wished her luck, and headed to the front of the starting line. I was able to edge up to about 4 rows back of the starting line which is a little farther than I wanted to be but I would just have to work through it.
Great singing of the National Anthem and we were off. First quarter mile I spent a good amount of time dodging runners but I was able to quickly settle into a good pace. Funny thing is that I actually settled in behind two kids (had to be about 8-12 years old) and they were pacing me for the first part of the race at about 6:30 min/mile. A little faster than I wanted to come out but my legs were feeling good and I was going to stick it out and see what happened. First mile came in at 6:41 min/mile.
Once I passed the two young men I settled in behind an older gentlemen and we were still pacing at about the 6:40 pace. The run was pretty much an out and back and I really planned to make it to the turning point and use the finish line as my driver for the second part of the race. Well this is where things started to get tough for me. The lack of energy over the last few days and the quick pace were starting to take it's toll on my legs. I was feeling them get tired and started to wonder how long I could hold on. Second mile came in at 6:51 min/mile.
Once I passed the older gentlemen, I was pretty much running on my own with runners spread out in front and behind me. Mile 3 was one of the toughest miles I've had in a long time. As most of you commented during the week, had this been a training run I would of packed it in and walked a bit. At one point my pace was closing in on 8 min/mile and I wasnt sure the PR was in the cards today. Then saving grace number one came to me. A man came up behind me and I was able to draft behind him with about a half mile to go. Then saving grace number two came to me. With about a quarter mile to go, the finish line was visible. Third mile came in at 7:29 min/mile.
With the finish line in front of us, I was able to sprint (well it felt like sprinting lol) the remaining .10 of the 5K with that last section coming in at 6:28 min/mile. Closing out the race at 21:38 on my garmin. I felt like I was going to die once I crossed the finish line but that was a new PR!!!
One note, the race started at 7:30 am but by the time we were hitting the mid point in the race, the sun was well upon us at the heat was definately a factor.
As I proceeded down the finish area, I was presented my finishers medal, and the boys ran up to greet me. I was dying but it was great to see them. We posted up near the finish line and awaited Mrs Schlub to cross the finish line. When she came across she looked great and she was super excited because she had obtained her PR as well. Of course we had to pose with our finisher medals.

Closing Thoughts:
1) This was a very positive run that turned into a PR and right along the goal that I set for myself. Building on that, I really feel that a sub 20 min 5K was possible. Had my legs been fresh, the pace I was running at in the first mile felt smooth and really didnt even feel like I was running as quick as the pace was showing. We have a 10K next week then a 5K virtual run the following week, then we transition to Marathon training. We may have to find a 5K in the coming months to see if that sub 20 is possible.
2) Mrs Schlub and I have a lot of races we sign up for because it is a great race for us. Our friends are running, great shwag, big name race, many different reasons. This race was completely different from the races we usually run. This was a great family race and I can definatley see us running this again. Even though my legs were tired, it was extremely fun running with the kids during the fun run, pushing them along, encouraging them, and all getting a finishers medal at the end.
3) I want to thank everyone for their support and helpful tips. It was a roller coaster week and an even tougher race but the end result is still a PR.
Question??
How do we become mentally tougher for these types of runs? Runs where doubt creeps into your head and starts to diminish your confidence?